Food security has been Butoke's first and most important area of intervention to date. Butoke's team of agricultural workers established their reputation in 2004, as a result of successful work in four locations.
In the summer of 2005, Butoke secured funding to pursue this work, just in time for the Sept. 2005 planting season. As a result of this work, Butoke was able to support 185 associations of small farmers and approximately 700 farmers working individual family plots during the months of August to October of this year. These farmers have received basic tools and seeds (hoes, machetes), in order to help them become reestablished, or in some cases to become established for the first time, in agricultural activities.
Click here for more information on our projects and activities in this area.
 [Top]
<![if !supportEmptyParas]> <![endif]>
<![if !vml]>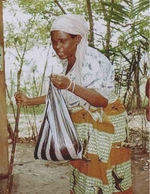 <![endif]>
This widow walked 60 km (40 miles) seeking seeds from Butoke
.
Butoke's interventions in the health sector aim to address the needs of the most deprived. These include dispossessed people in need of emergency medical services, the severely malnourished, and the disabled.
Many emergencies are turned away from hospitals for lack of ability to pay. Butoke provides an advocate who assists hospital patients get access to needed health care. Malnutrition is widespread, since most people eat only one meal a day, and the food is often low in essential nutrients. Malnutrition primarily affects children, widows, pregnant mothers, handicapped people and older women. Butoke identifies people who are malnourished and provides both food and nutritional counselling. Butoke's food security and nutrition program provides a longer-term approach.
Estimates indicate that potable water is available to only 30% of the population in DRC. In rural areas clean water is available to only 4% of the population. The resulting lack of access to potable water increases the risk of water borne diseases. Butoke has responded by undertaking water, sanitation and hygiene activities, concentrating its efforts in the territories of Luiza, Kasumba, Mueka and Demba.
In a situation where survival is often uncertain anyway, disabilities further impair an individual's chances. Disabled people are stigmatized because they are considered to be "unlucky." Existing services provide neither social rehabilitation nor pastoral care. Butoke provides all of these.
Click here for more information on our projects and activities in this area.
[Top]
<![if !vml]>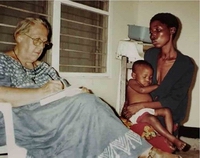 <![endif]>
This widowed mother and her child are both severely malnourished.
Butoke's human rights program focuses on three of the most marginalized groups in society in the region:  prisoners, widows and orphans.
Butoke's lawyers have established that one third of the prisoners in Kananga prison have not been accused of any crime. Since December 2004, Butoke has secured the release of 15 inmates of the 150 incarcerated in Kananga prison. Butoke also provides food for prisoners. The prison does not provide food, or other essentials, so prisoners are dependent of their families to supply them.  However, two thirds come from other provinces and so have no local support network.  Many die from malnutrition and disease.
Death rates among men are high, due to war, accidents, violence, alcohol and drug abuse. As a result, 30% of adult women are widows. Widows are regarded as "witches," blamed for the death of their husbands and so disinherited. Many become prostitutes.
Butoke's food security and nutrition program (see above) helps these women to secure a sustainable way of feeding themselves and their families.
Butoke offers support in other ways as well. In 2005, it initiated a legal aid project focusing on the legal rights of widows. It also undertook an awareness-raising program at the parish level on the rights of women and children, with emphasis on widows and orphans.
One of the results of this work has been that numerous orphans identified as "sorcerers" were referred to Butoke. Butoke accommodated these orphans in 2006 by opening an orphanage, for 40-50 children, of whom more than 30 are boys.
[Top]
<![if !vml]>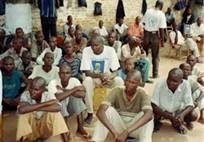 <![endif]>
Prisoners in courtyard. Butoke's lawyers have established that one third of prisoners have not been accused of any crime. Since Dec. 2004, Butoke's lawyers have secured the release of 15 of the 150 inmates in Kananga prison.
Butoke provides support for school fees and notebooks and pens, without which children cannot attend private or government schools. We have supported 278 children in this way to date, mostly orphaned or abandoned children.
We have also organized special summer courses for village children in French, English, and mathematics. In the summer of 2004, 128 students participated in this educational enrichment.
In 2008-2009, Butoke organised special retraining of 40 teachers and 20 school directors on appropriate teaching methods for French, mathematics and peace and reconciliation in the first two primary grades This training was highly appreciated.
[Top]
<![if !vml]>
<![endif]>
Handing out notebooks to sponsored students.